Summer is in full swing and before we know it September will be here!
The real estate market has been very busy over the last few months and we are hard at work helping our clients reach their real estate needs.
We are also finding the time to enjoy the many activities that make living and working in Centre Wellington so special!
Paul and Tammy are enjoying cottage life in Belwood. They can often be found on the boat and entertaining family at the Lake. When he can find the time, Paul also enjoys a quick golf game. As you can see, Rocky is happy to join Paul as his sidekick both on land and on the water!
Malcolm and Jane have also been having a great time living at Belwood Lake. Recently, they have been teaching the boys to water ski and also fish from the dock. Malcolm was fortunate to coach Zach in Lacrosse this year. Watching his son take an interest in the sport that created so many happy memories for him as a child has been a very rewarding experience!
Melissa and Terry been keeping busy with friends and family both in the community and up north at Terry's fishing lodge, The Tilted Toque. It is a great place to relax and unwind with their family. Just this past weekend they celebrated Ethan's 17th birthday.
Melissa also recently enjoyed a fantastic dinner with friends at a new local restaurant, The Friendly Society in Elora. She highly recommends it!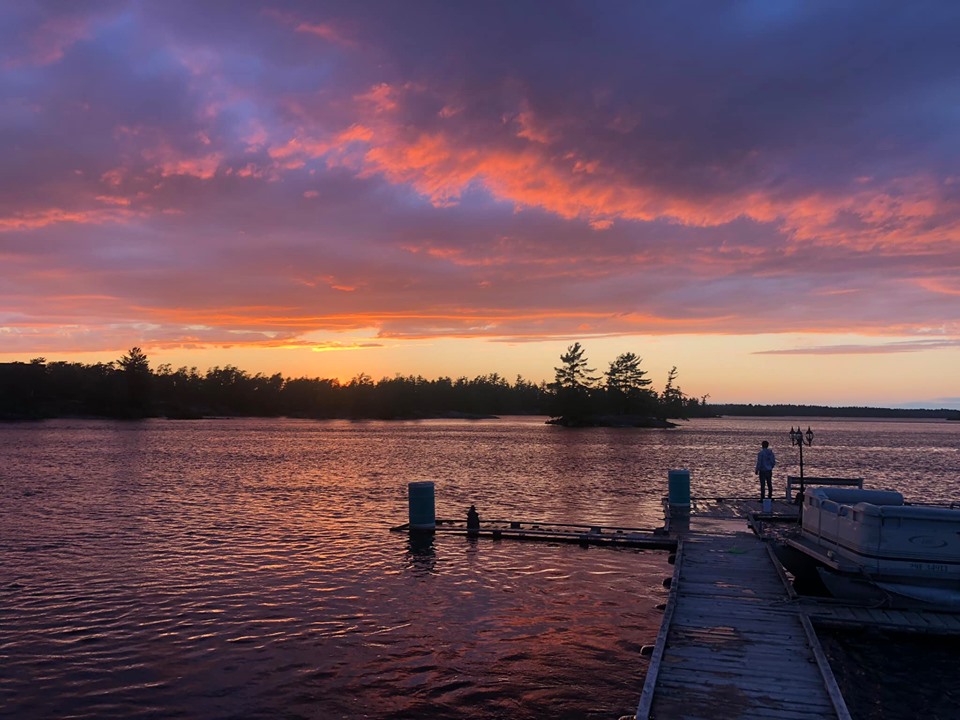 Alex and Naomi have been enjoying life as a family of 4. Both Logan & Ellie are growing fast! They recently purchased a new home in Fergus and have been busy planning some renovations and getting to know their new neighbourhood.
They enjoyed some family time away this past weekend in Muskoka and Wasaga Beach.
Amy and Charlie have been busy watching all 3 of their girls participate in sports locally. Watching the girls learn so many skills both physically and socially while on the baseball field has been great. They have had a chance to spend a few days in Grand Bend and look forward to some more time at the beach in a few weeks!
Later this week Amy will travel to Hamilton to attend an administrators' workshop at Keller Williams Complete. This event will expand her skills and help to build our connection with other successful real estate teams in larger city centres.
Locally, August is an amazing month with many community events that you may consider attending.
The Fergus Scottish Festival and Highland Games are in town this weekend August 9, 10, 11.
If you have not yet attended, you should certainly make it a priority to spend some time there this weekend.
The Tattoo is a must see, the many live bands and Heavy Events are also great for the entire family!
Also mark August 16th into your calendar. Edge Realty Solutions is again a Diamond Level Partner of this event which sees hundreds of local kids playing ball hockey in the McGinn Brothers Big Game! Always a huge day for local sportsers, show your support along with Jamie, Tye and Brock McGinn as well as several other NHL stars in support of Big Brothers Big Sisters of Centre Wellington.
The McGinn Brothers Big Game always leads into one of the most popular local events of the summer. Be sure to grab your Riverfest tickets for Aug. 16, 17, 18th and take in one of Canada's most unique music festivals at Bissel Park in Elora. Set along the Grand River, this festival will have you hooked and will keep you coming back for years to come.
As we wind up summer we are starting to plan for a busy fall market.
Did you know that next to early spring, the September-November market can provide some great opportunities for Buyers and Sellers alike?
If you or someone that you know are thinking of making an upcoming move, please consider reaching out to arrange a short meeting.
In this we would discuss a plan that would ensure that you are prepared though the process and ensures that we reach your goals.
These days it is more important than ever to be informed and educated of your options. Whether Buying or Selling, a solid strategy can make all of the difference.
As a final note, Malcolm and Melissa are attending an International Real Estate Conference in Austin Texas later this month and very excited to learn about the latest in technology, networking, systems, marketing and how we may be able to improve our service and value proposition. They will be networking with some of the most successful Realtors in the world and bringing this knowledge and connections back to the Impact Realty Group which will make certain that we continue to be a step ahead in the years to come!